26/05/09
Hi everybody! As we told you last week, we went to San Francisco, and as promised, we gonna tell you about our trip.

For those who are not familiar, here is a little description of this city:
Well, San Francisco is located on the west coast of the United States, between the Pacific Ocean and the San Francisco Bay. It is one of the most popular city in California and in the United States, and today, it is a famous international touristic destination for its neighbourhoods. The Californian Gold Rush in 1848 propelled the city into a period of rapid growth, transforming it into the largest city on the West Coast at the time.

Journey Diary:

First Day
THI-LOAN: After a very long and tiring flight, we finally reached our hotel around 9pm, local time. It was located just in front of the very famous Transamerica Pyramid, the highest skyscraper of San Fransisco.
MACHA: Since the night was clear, Thi-Loan and I decided to make a special tour of the city: we drove around San Fransisco in a limousine, and we stopped at Twin Peaks, two very known hills which allowed us the best view of the city. It was awesome!

Second Day:
THI-LOAN: We began our day with a shopping frenzy at Pier 39, a very known harbour of SF located at the edge of the Fisherman's Wharf district, and we decided to eat in the funy floating « Forbes Island » restaurant. Then, we took a boat towards the famous prison of Alcatraz (also named "The Rock"), and we attended a guided tour. We also pass under the mythic and magnificent Golden Gate Bridge (1970 meters long and 230 meters high) which connects the city of San Francisco to Marin County.
MACHA: Coming back to the harbour, we saw more than a hundred of seals resting under the sun on the decks of the harbour, and nobody would even mention it …

Third Day:

MACHA: Today, I met Justin, the hotel owner's son, who offered to show me around. He was so cute that I accepted. We started at the Golden Gate park, where we saw this famous bridge, and as the weather was rather cold, the fog slowly swallowed it. In the evening, we went to Tennessee Valley, a sand black beach, where we watched the sunset. So romantic!
THI-LOAN: In the meantime, as I was lonely, I indulged myself in the jacuzzi and in the Spa at the hotel, and then, I spent my time in shops and souvenir stores.

Fourth Day:
MACHA : After having a nice rest, we went to the SF MOMA, the San Fransisco Museum Of Modern Art which was very rewarding. Then, we visited the famous "Japanese Tea Garden" for a picnic, to discover different constructions and typical Japanese statues, and to enjoy a peaceful moment.
THI-LOAN : Before leaving, somebody served us a tea with a small cake, called a "fortune cookie". Inside mine, there was a tiny piece of paper on which it was written: « Nothing'll be able to stop your good mood today ». But Macha won't remember what was written on hers, 'cause she swallowed it with the cake …

Fifth Day: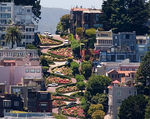 THI-LOAN: For this last day, we decided to take a cablecar, the quaint way of transportation in SF, and we drove through the most famous streets, like ' California street ', or ' Lombard Street ', the crookedest street in the world. Then, we visited mythical places, like ' Chinatown ', the second biggest Chinese district in USA, where we ate in a very good sushi bar.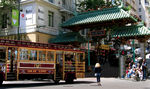 MACHA: We also went to the hippy area, "Haight Ashbury", but on the way back, we got lost and we entered the worldwide known gay area of SF. And you know what ? Thi-Loan didn't want to quit this place without buying a small multicoloured flag, symbol of the gay community...
_______________________

And that's it! Our stay was short, but as you could see, we spent five tremendous days. Now, we hope this small tale will encourage you to visit this marvellous city of San Fransisco.
In the meantime you can read "Tales of the city" of Armistead Maupin, to begin your trip.
"If you're going to San Francisco, be sure to wear some flowers in your hair. If you're going to San Francisco, you're gonna meet some gentle people there. "
See you guys !
Macha & Thi-Loan

Commentaires sur Tales of San Francisco